That pulled the Bloomberg Intelligence China growth tracker down to 7.15 percent last month — still solid, but down from 7.64 percent seen in March.

To be clear, China's economy remains in good shape: Factory prices are reflating, housing prices continue to defy predictions of a hard landing, and consumers are still spending even as markets wobble in response to the efforts to curb leverage. But for countries that rely on the world's biggest trading nation to soak up their exports, Monday's data is a reality check.

"It suggests a modest correction going forward in the assets of those countries that export to China heading into the second half," said Callum Henderson, a managing director for Asia-Pacific at Eurasia Group in Singapore.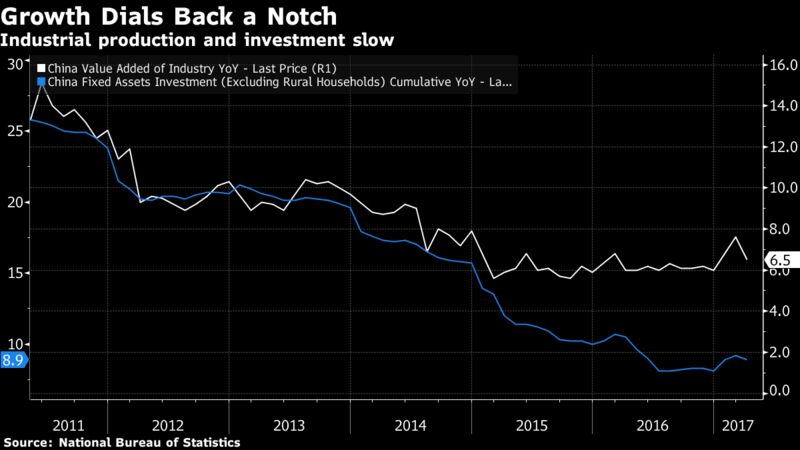 And policy makers are signaling there'll be no let up anytime soon in the quest to rein in excesses.
Premier Li Keqiang said the nation will prioritize preventing financial risks, continue with its prudent monetary policy, and maintain market stability, state television reported Friday, citing his comments in a meeting with IMF Managing Director Christine Lagarde. The People's Bank of China said in its quarterly monetary policy implementation report Friday that it will "strictly control" risks on liquidity and prevent bank credit from being used for speculative home purchase.
Growth Peak
Economists surveyed by Bloomberg forecast 6.6 percent growth this year, above the government's growth target of "around 6.5 percent, or higher if possible." The 6.9 percent pace of the first quarter is likely to be this year's high point, economists estimate.
There's likely to be a modest but not dramatic deceleration from the peak pace in March, according to Song Yu, chief China economist at Beijing Gao Hua Securities Co., Goldman Sachs Group Inc.'s mainland joint-venture partner.
A more pronounced deceleration will likely occur with nominal indicators such as imports and industrial profits growth, which accelerated from negative double digit growth at the trough to more than 20 percent growth recently," Song wrote in a report Monday. "While we have likely seen the peak in nominal growth, we do not expect the growth rates of these indicators to fall to anywhere near their previous troughs."
https://www.bloomberg.com/news/articles/2017-05-15/china-s-growth-dividend-for-world-economy-shows-signs-of-fading
Source: Bloomberg

CHINA
World Ecconomy
2017-05-17