For gas, there will be limited impact. However the key weapon in Qatar's arsenal — its gas supplies to Abu Dhabi — can't be compromised without escalating a battle the nation would seem destined to lose.
Last week's shipping bans prevent vessels from entering terminals in either Saudi Arabia or the United Arab Emirates. Their scope has fluctuated between a restriction on Qatari-owned or flagged vessels, and a more general ban on all ships that have called, or plan to call, at Qatar, regardless of ownership or flag. The uncertainty means that shippers and buyers of Qatari oil are forced to operate as though their vessels will be barred from regional ports.
This impacts Qatar and its trading partners in two ways.
Firstly, it prevents tankers from loading partial cargoes from Saudi Arabia or the U.A.E. if they're also loading in Qatar, and it restricts the ports they can use for refueling. Neither should have a profound effect on Qatar's gas trade — its most important source of income — but the impact on oil could be more significant.
Almost every tanker that takes on a cargo of crude or condensate from Qatar also visits terminals in Saudi Arabia or the U.A.E. to top up its tanks. Qatari crude is typically sold in lots that will fill one third to a half of a very large crude carrier (VLCC), the sort that buyers prefer to use to haul oil from the Middle East to Asia.
According to Bloomberg tanker-tracking data, of the 30 vessels that loaded crude or condensate in Qatar last month, only three didn't call anywhere else. One co-loaded in Kuwait, and the rest went to terminals in either Saudi Arabia or the U.A.E., or both.
Buyers are already seeking smaller vessels to ship Qatari cargoes. But this comes at the cost of higher per barrel transport charges, for which companies may expect compensation.
The extent of the disruption to oil exports will depend on the scope of the bans and how rigidly they're enforced.
Tanker-tracking data show that the VLCC Asian Progress V was permitted to load in Saudi Arabia on June 7 after first taking on a partial cargo at Mesaieed in Qatar. On the morning of June 8, the VLCC Apollo Dream was anchored at Saudi Arabia's Ras Tanura terminal, having previously taken on partial cargoes at Qatar's Halul Island and then the U.A.E.'s Zirku Island — both visits occurring after the sanctions were imposed.
Allowing the vessel to load in Saudi Arabia may indicate that the kingdom is stepping back from its initial broad ban. If it's turned away, we can surmise that the Saudis remain uncompromising.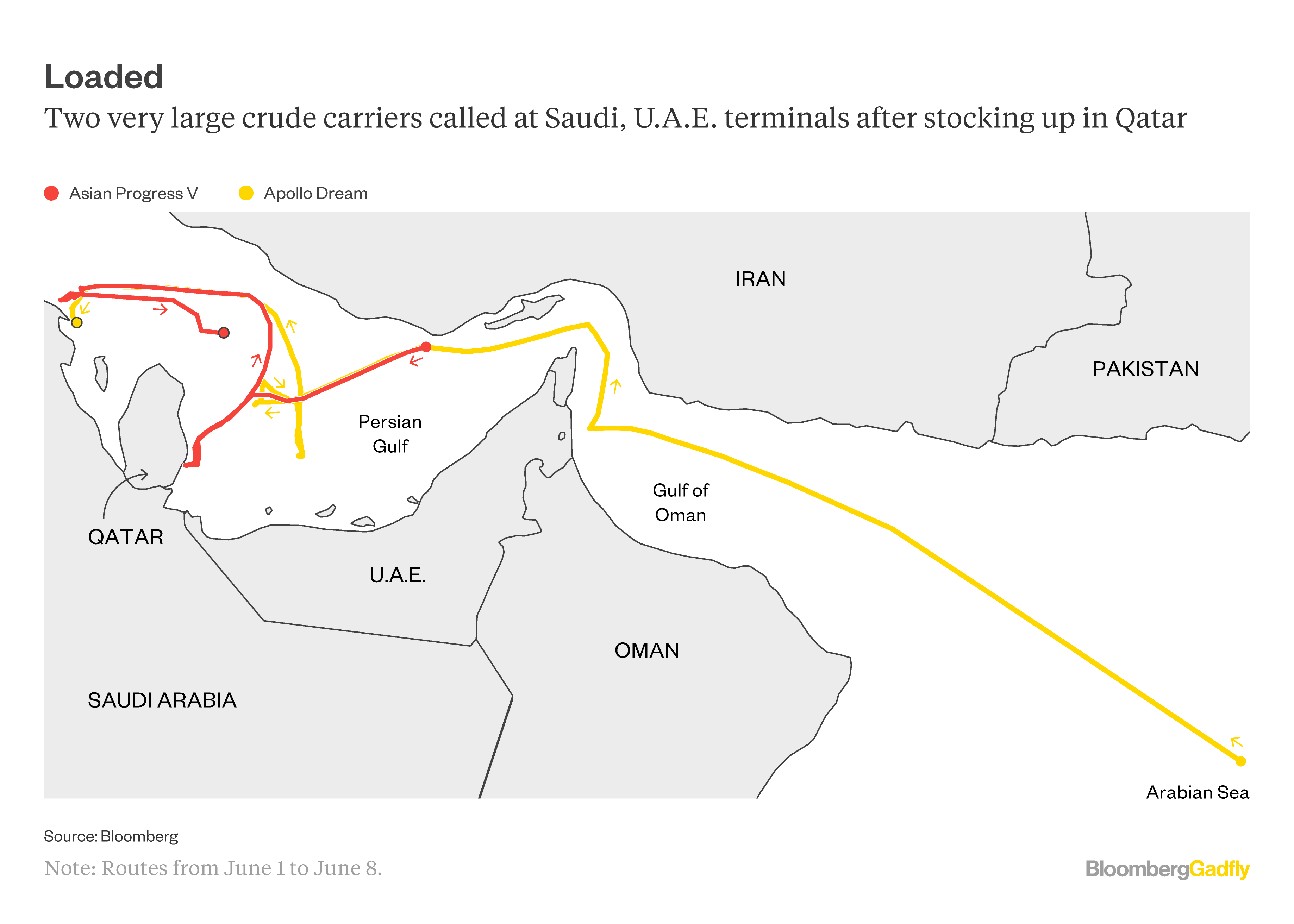 The second impact of the ban is on the refueling of vessels. Fujairah in the U.A.E., strategically located just outside the Persian Gulf, is a major bunkering terminal where vessels take on fuel for their onward voyages. A ban on ships trading with Qatar entering the port will create some initial disruption to shippers, but will eventually provide a boost for nearby bunker terminals in Oman, or even Iran, and may end up hurting the U.A.E. more than Qatar.
The most potent weapon with which Qatar could respond to the various restrictions imposed by its neighbors is its gas sales to the U.A.E.
The Dolphin pipeline provides about a quarter of U.A.E.'s annual gas needs and demand is near its seasonal peak, with the holy month of Ramadan coinciding with rising summer temperatures that boost electricity consumption.
Cutting the flow through the pipeline, as well as shipments of liquefied gas, would cause real short-term difficulties. Supplies could, over time, be replaced with LNG from elsewhere, but attitudes in the country would likely harden against Qatar.Qatar may be unable to retaliate without escalating the crisis to its disadvantage. But some initial inconvenience aside, it should at least be able to maintain its oil and gas exports.
https://www.bloomberg.com/gadfly/articles/2017-06-11/qatar-s-powerless-weapon
Source: Bloomberg

Qatar
2017-06-13