Things are looking up for ocean carriers. Or, more accurately, for those that remain active after the M&A frenzy of the past year or two. With fewer global carriers and a break from ordering big new ships the industry has been busy preparing the ground that could see the industry return to profitability after a long wait.
It might seem counter-intuitive to hold a more bullish view so soon after one of the industry's most high-profile casualties in Hanjin Shipping and a third-quarter when financials were splattered in red ink leading to a collective operating loss of over $1 billion (see Figure 1), but such has been the intensity of consolidation that there does seem to be a very high probability that better times are just around the corner, and potentially really good times when the current orderbook is delivered.
Figure 1: Estimated container shipping industry operating losses in 2016 (US$m)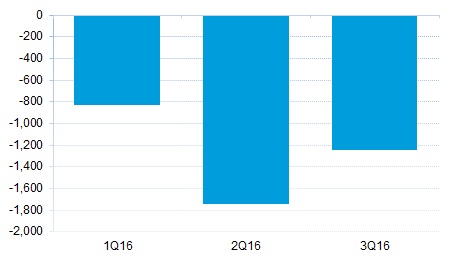 And yet, there remains a nagging doubt that we can't shake that tells us not to get carried away. There are two main reasons for our reticence. Firstly, we remain cautious on a general principal because carriers have a self-sabotaging streak that in the past has shortened booms and lengthened busts; and secondly, just because it now looks like a few big carriers will have the run of the place to themselves it does not mean that new competition won't rise out of nowhere.
Whether carriers can be entirely pushed off the path to profitability will depend on the scale and longevity of any newcomer, or indeed an existing player with expansionist dreams.
Already, from the ashes of Hanjin's bankruptcy a new entrant has emerged in Korea Line, a bulk operator that has bought some of Hanjin's Transpacific assets (excluding any vessels) for about $30 million. According to reports, Korea Line will start two Asia-US West Coast services in April using 4,500 teu units, which are currently available on the charter and second-hand markets at rock-bottom prices.
Inevitably, to get a footing in the trade new entrants to some extent have to buy their way in with cheap rates, which can have a destabilising effect on the incumbent carriers even if the newcomer only has a small share of the market. Korea Lines' entry at the same time that the new alliances are commencing operations will add yet another level of competition that will further supress spot rates.
The Transpacific has seen a number of short-lived carriers come and go in recent years (see Table 1) but even if Korea Lines is just another flash in the pan, the point is that there is nothing the so-called legacy carriers can do to prevent new competition from eroding profits, even if it's only for a short period. So long as there is a surplus of vessels that keeps charter rates down, and fuel prices are manageable there are almost no barriers to entry. Of course, the buy-in price varies from trade to trade and the ULCV-dominated Asia-Europe trade would be prohibitively high for most to even consider trying to break into.
Table 1: New entrants into the Transpacific container trade since 2010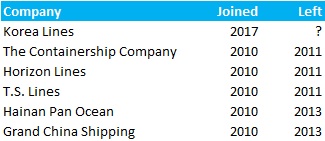 Aside from potential new competition, another factor that could prevent the big carriers from reaching nirvana is the political will that exists to grow certain companies. Despite the container industry's history of losing money some governments around the world remain keen to expand their shipping footprints, something that could push back the date when supply and demand finally align.
State-owned Islamic Republic of Iran Shipping Lines (IRISL) has recently given the dormant orderbook a kiss of life by ordering four 14,500 teu units from South Korean shipbuilder Hyundai Heavy Industries (HHI) and has previously expressed a desire to buy much more new capacity to become a global player. The order was financed by the South Korean government who are desperate to resuscitate their ailing shipping industry, which in the last year has lost Hanjin and seen Hyundai Merchant Marine (HMM) shrink in stature as it fights to repair its balance sheet. Unperturbed by its recent difficulties HMM has apparently set an ambitious target for 5% of global capacity by 2021, which would necessitate a serious ordering spree or takeover, the latter being most likely.
Additionally, the Japanese and Taiwanese governments have also recently set up schemes to financially assist their shipping companies, which make their domiciled companies extremely unpredictable as they might not be subject to the same market forces. All of which suggest we should not assume that the big carriers at the top will have it all their own way.
Source: https://www.drewry.co.uk/container-insight-weekly/weekly-feature-articles/getting-carried-away
Drewry
2016-12-20